FAQs
How much is delivery?
UK SHOP 
Depends on the destination and the quantity of your order.
For one helmet, £4.99 to UK, £14.99 for EU, £15.99 for outside UK & EU, including non-EU Europe/Canada/Australia. For any destination not listed at our shop, please get in touch.
USA SHOP
The flat rate for USA shipping is £15.99. 
 
How long does delivery take?
UK SHOP 
The Royal Mail information as a rule of thumb is Europe 3-5 days and Rest Of The World 5-7 days based on the service normally used to send individual items.  The bulk parcels vary depending on the company used and we always go for the cheapest option.
Please allow extra time for peak seasons such as Christmas.​
USA SHOP
2 - 5 days for US delivery.

How can I track my order?

We will provide you a tracking number when the order is fulfilled.  You can track your order's progress on the courier company's website we provide. 
 
What do I do if my order hasn't arrived?

Sorry to hear that! Please write to us at order@sawako.comand let us assist you.
Returns Procedure

Please email  to let us know you'd like to return your purchase. We will send you returns instructions.
 
Returned items should be unused and unworn (if applicable) and must be returned in original packaging with any enclosed documentation.
We will issue a full refund on receipt, excluding the original delivery charge. Alternatively, if preferred, we will exchange the item.
 
I have received a faulty item

We are sorry to hear that!
We have strict quality control in our factory and warehouses in the UK and USA (Yes, we go through A LOT of helmets!).
However, if you have any problems with your helmet, please contact us to return the faulty item and we will replace it.
 
UK Return address
Once you contact us to notify that you are returning or exchanging an item, please send the item to;
Sawako Furuno Ltd.
c/o Complete Mailings
Unit 5 Bradley Park
High Holborn Road
Codnor Gate Industrial Estate
Ripley
Derbyshire
DE5 3NW
UK
​

USA Return address
Once you contact us to notify that you are returning or exchanging an item, please send the item to;
Sawako LLC
c/o PNP LINE
5801 West side ave
North Bergen
NJ, 07047
USA
Size

The majority of Sawako helmets come in One size female M (typically 52~58cm) It has a dial-to-fit size adjuster at the back which should make the helmet fit you snugly.
How to wear your helmet

Please refer to our user guide for how to fit your helmet properly.
How to fit ear cosies

Here is an illustration of how to fit them on your helmet.
Safety Standards:

Our helmets carry the following safety certification:
EN1078:  European Standard, Helmets for pedal cyclists and for users of skateboards and roller skates
CPSC:  U.S. Consumer Product Safety Commission, Bike Helmets
How to pre-order sold-out products: 1

When you visit an item you would like but it is sold out, you should find a box like the below (sometimes there is a little delay before the box pops up).  Please leave your email address in the box and we will inform you as soon as it is back in stock.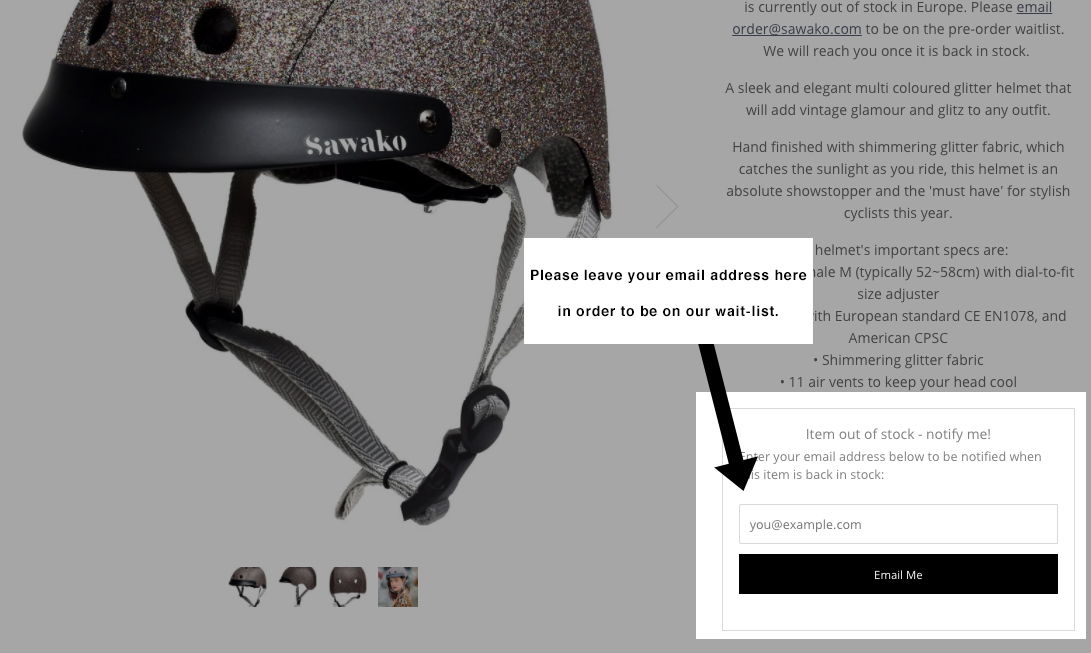 We do most of international shipping from UK warehouse. If you don't live in USA, please order through UK shop.  This includes Canada or South America. Surprisingly, it is cheaper to send our helmet to these areas from UK than from USA at the moment! 
For your USA customers, we have a warehouse based in NJ, in order to save shipping cost and time, please order via our USA shop.
For any question, please do not hestiate to contact us.